Index Suriname
---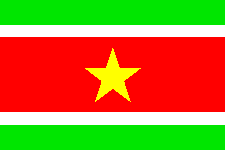 Suriname... Een gemiste kans?

Over 25 februari 1980

Peter's information about Suriname

Location of Suriname

The Arm, Anthem and Flag of Suriname

The Governors and Presidents of Suriname

Suriname Links by Peter Troon

Survey of pages made by Peter Troon

Mi Kondre Troe - My True Country

Handy information for persons going to Suriname

Telesur homepage

Surinam Net

The Suriname Bridge

Suriname Pagina.nl

My Main Page

My Cool Homepage at EuroNet

My Other Homepage at Wanadoo

My Homepage at Geocities

Our Father Prayer in the Surinamish Language

Hail Mary Prayer in the Surinamish Language

This Page: Copyright © 1996 - 2002 Peter A.J. Troon
Note: I am NOT responsible for any harm done by reading the information on this pages!
---